An introduction...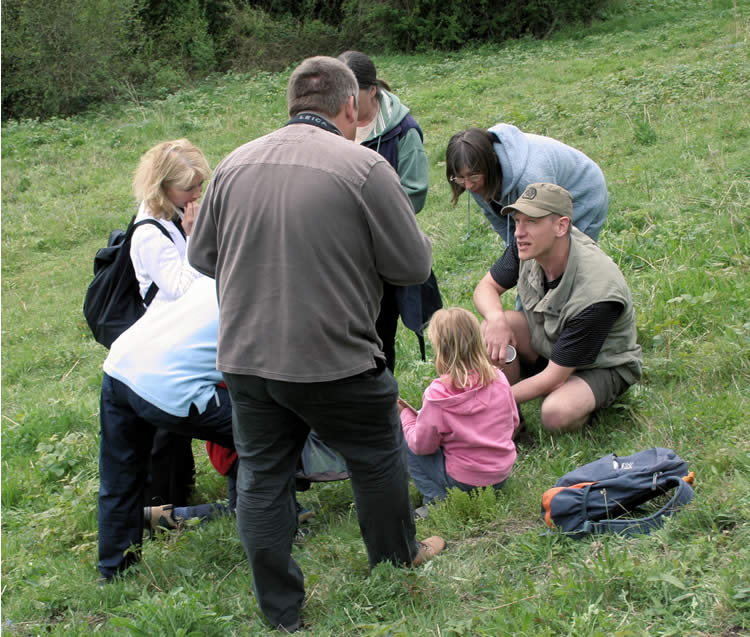 My name is Mike Wall (that's me on the right, at a Butterfly Conservation event back in 2006), and live in Basingstoke, Hampshire. I've always been keenly interested in natural history, and have been birding since a small lad. However, my interest in moths didn't start seriously until I attended a public mothing session in 2002. After that night when I was amazed by the variety of species on show, I soon got my own trap and have never looked back. In 2009 I took on the role of county micro-moth recorder to share some of the burden with Tim Norriss, as thanks to the burgeoning interest in moth recording in our county, the amount of data we now have to handle was too much for one person.
Tim Norriss resigned as CMR in 2015, after which I've accepted sole responsibility for maintaining the Hampshire moth database. Thankfully Iain Outlaw on the Isle of Wight came on board to place the recording of moths on the island in safe hands and reduce the workload (and recording on the island has since gone from strength to strength). Iain unfortunately had to step down himself in 2020 but Jim Baldwin has come in to take over the reins. I am unable to commit to producing an annual report on a regular basis, but such reports will be issued from time to time.
I setup Hantsmoths in October 2005 (building on work started in an earlier and now defunct website, www.bike2nature.co.uk) to provide an information portal for the county's moth-ers, and to give my burgeoning digital photo collection a home! It has gone from strength to strength and traffic is increasing on a year-on-year basis. It was extensively overhauled in 2010 and incrementally thereafter and I have literally hundreds of updates to catch up!
I hope you enjoy the website and find it useful. Any errors or omissions should be notified to me at the email address below.
Mike
Moth Recording
I would like to hear from anyone who is recording or thinking about doing so in the counties of Hampshire and the Isle of Wight. My contact details are as below. Please also see the Moth Recording Guidelines.
County moth recorder, identification queries, Mapmate recording hub and webmaster of hantsmoths.org.uk:

Mike Wall
Mapmate CUK: 2h3
Email: mike(AT)hantsmoths(DOT)org.uk
Mobile: (text or Whatsapp only please - I will get back to you) 07981 984761